Class 3
MEET THE TEAM
Miss Fitzpatrick is Class 3's teacher with Mrs Wood, Mrs Topham and Mrs Sutcliffe who are our teaching assistants. Mrs Webster teaches in class on Friday afternoons.
We have 36 children in our class which is a mixed class of year 3 and year 4 children. In Class 3 we work on a two year cycle so that we have lots of variety in our studies.
Welcome Back Class Three!
Hello Class Three
Wow- I can't believe the time has come for me to finally meet you all.
Me, Mrs Topham and Mrs Wood are really excited to welcome you into class three. I know for lots of you, it has been a long time since you have walked through our doors and I know you must be feeling nervous and excited. Please be reassured that not only are we doing everything we can to be safe we are going to have as much fun as possible!
Parents, we are thrilled to be welcoming the children back into school. You have done a fantastic job of their home schooling and I am looking forward to hearing about the wonderful things they have learnt whilst at home with you. The well-being of the children is now, more than ever, our number one priority and we are eager to establish a sense of 'normality' for you all. This term we are focusing on mindfulness and ensuring the children feel happy, calm and safe when they are in our care. Over the next few months we will be focusing on revising key skills and we plan to fill the curriculum gaps from the missed summer term.
If you have any queries or concerns, please do not hesitate to contact me via the school office.
I am looking forward to finally meeting you and your wonderful children!
Kind regards,
Miss Fitzpatrick
PE Day: Wednesday
Please wear outdoor kit and bring a waterproof jacket.
Wild Wellie Wednesday: Alternative Wednesdays
Please bring wellies and a waterproof jacket.
Ukulele's to be brought into school every Tuesday
Curriculum and Expectations
End of Year Expectations Year 3
End of Year Expectations Year 4
E-learning:
Outdoor Activities- Here are some activities that you can try at home by collecting items on your daily walk!
You can use the class login for Oxford Owls to access reading books.
Please go to www.oxfordowl.co.uk Click on the My Class Login button.
you can use your personal log on for Purple Mash.
Please go to https://www.purplemash.com/login/
Your login details for both websites were provided in your learning packs.
Espresso - Espresso is an online cross-curricular service that provides video-rich resources to schools throughout the UK. It contains thousands of videos and multimedia activities, as well as a weekly news service.

To access Discovery Education Espresso from home:

click the 'Login' button in the top right corner

select 'Espresso'

enter your child's username and password

Login details through school text message.
Home learning resources
PE - follow this link to the Physcial Education page on our website for all Mrs Topham's Home learning resources for PE.
Maths - follow this link to find a range of maths activities to do whilst learning from home.
National Curriculum - follow this link to find a range of wider curriculum tasks to do whilst learning at home.
RE - follow this link to find a range of RE activities to do whilst learning from home.
Reading/Comprehension - Audio books available for those who like to listen to stories. 30 day free trial. Follow this link.
Twinkl - follow this link to find curriculum wide resources for home learning.
Cambridge University Press - follow this link for activities to support your learning at home.
Kindness Calendar - follow this link to find a calendar for acts of kindness that the children can do whilst in isolation.
TTS - free resource packs online at TTS
Maths Assistance for Home Schooling for Parents - K7 Maths
Maths Games - Maths Chase
English and Literacy Read and Respond - a fabulous resource from Lancashire for Literacy development. Follow this link for Year 3. Follow this link for Year 4.
Active Maths - follow this link for Active Maths Challenges
Maths Consultants - follow this link for Home Learning Activities.
A big hello to Class 3 April 2020
I would first of all like to say a big hello to you and your parents. My name is Miss Fitzpatrick, and when the world returns to normal (which I am hoping is really soon) I am going to be your new teacher. I am really excited to meet you all again and for us to have lots of fun learning together in Class Three!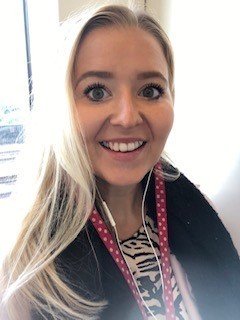 Here is a little photo so you know what I look like :)
Children, I know you have lots of activities to be keeping you busy but the most important thing you need to be doing at this time is to be looking after yourselves. You are going to go down in History (how cool is that?) as the children who had to FREEZE their learning and stay indoors. When you are old enough to tell the tale, you will be able to talk about all the extra time you got to spend learning new things at home. So please, as well as completing the work in your home learning packs, do play outside, watch your favourite TV program, learn a new skill, make something, dance, play and find time to do something fun! If you like, you can send me an email with all the lovely things that you are doing on top of your home learning. (I love cake so I am learning how to cook lots of yummy treats!)

Parents, I know you may be worried about your child's progress and attainment during this time. Please be mindful that every child in the world's education has been put on hold, currently no child is ahead and no child is behind. Each child is exactly where they need to be- at home with you.
Just manage what you can and know we are working through this really difficult time together.
Stay safe and see you soon
Miss Fitzpatrick
An AMAZING effort made for the Homework Project on Roman Villas
Math's Fun on Wild Welly Wednesday 09.10.19
We always work hard in Class 3